Rug Cleaning
Persian
Oriental
Turkish
Afghan
Child Care Rugs
Inexpensive or Luxury
Hand-Knotted (Wool, Silk, Fabrics)
Hand-Tufted (Wool or Silk over Canvas)
Flatweave, Kilim, Dhurrie (Wool or Silk)
Handloom (Wool, Viscose, Synthetics)
Machine-made (Wool, Viscose, Synthetics)
Hooked Rugs (Fabric or Yarn)
Braided Rugs (Fabric, Yarn, or Jute)
Upholstery Cleaning
We clean all different types of fabric covered furniture
Odor Removal from Rugs or Upholstery
Embedded Urine Odor
Water Damage
Mold
Fire damage smoke
Cigarette smoke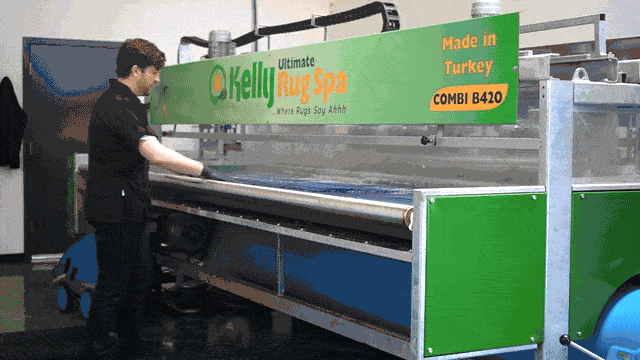 Check out our step by step Rug cleaning process
With the coming of the Ultimate Rug Spa, so too does our newest equipment that we have imported directly from Turkey. Our Cleanvac rug cleaning machine is the answer to some of our most wanted cleaning techniques. This machine allows you to clean the most delicate of rugs with extreme care as well tackle tough stains with ease! This equipment and our technicians will exfoliate the fibers and rejuvenate the feel of your rug.Depending on the condition of your rug the Ultimate Rug Spa also has the option to use steam cleaning units to cleanse your rug of dirt and debris trapped within the fibers. This equipment will also be responsible for cleaning upholstery and can be done in the Spa for deep treatments or within your home for normal cleanings.
At the Ultimate Rug Spa we will implement techniques such as:
Flexology Massage – This will increase your carpets suppleness so it feels spectacular beneath your feet. Nobody likes a stiff and crunchy carpet.
Oriental Emollients Infusions brings out the luster of the fibers and its natural hues are renewed
Aromatherapy saturates fibers removing unwanted effluvium and replaces with a clean fresh fragrance
Although the Ultimate Rug Spa operates in a different building from Kelly Cleaning, we like to reiterate that we are the same company and are owned by the same president of Kelly Cleaning & Supplies. Unlike some of our competitors we are a true Ventura County local company. The more common cleaning company in Ventura has been rebranded or absorbed into a major company or even taken over by other private individuals.
We take pride in knowing that our original president of the company still has her hand in all operations and ideas in Kelly Cleaning. Margo Kelly has been the backbone to the success of her company and the guarantee of customer's satisfaction.
Kelly Cleaning offers the solution to your cleaning needs! Kelly Cleaning offers cleaning services such as:
The Ultimate Rug Spa Membership is a highly customized cleaning program for your rugs and furniture. The membership will be created for any rug or furniture that you want cleaned on a regular basis. If you want to have your rugs or furniture cleaned yearly, bi-annually, or even quarterly, we have the membership for you.
Our customizable plans will be able to cater to all different types of rugs or furniture. If you have a luxury persian rug or a machine made rug we will treat each piece as if it were our own! The Ultimate Rug Spa can create reminders for ease of service; you'll have the choice of pick up and delivery or drop-off services.
But why would you want a membership with the Ultimate Rug Spa? Not only will your pieces be pampered at the spa, but you will also be able to enjoy clean and great feeling pieces all the time. We have created these multiple service increments to fit your needs; if you have very little traffic through your house then the yearly service is for you. Cleaning your rugs will add years of life to your rug and have them looking and feeling amazing. If you have children, animals, dirty partners, or guests that don't know how to wipe their feet at the door, then maybe a bi-annual or quarterly service is for you!
Come have a day at the spa and we will design the plan of your cleaning needs!