When determining which rug material would fit the best for your home, there are a few key points that should be considered before purchasing. Some of these key points will range from a practicality standpoint to purely aesthetic preferences and even a financial investment point of view.
Let's start in order and focus our attention on practicality. Why should you even consider buying a rug? Shouldn't the flooring in your home already be sufficient whether you have carpeted floors, tile floors, or hardwood floors? That question is entirely based on what your needs are. Maybe you have expensive carpeting that you want to extend the life of and protect it from spills and trafficking for as long as possible. Or your hard surface floors are too cold during the colder months and you want something soft between you and your floors.
In any situation where practicality is concerned there are a few options that you may want to consider for your rug purchase. If the main reason for your rug purchase is to protect your floors, then a low maintenance, durable rug might be the option for you. Wool, polypropylene, jute, cotton, and seagrass rugs are all durable rugs that only require minimal maintenance. Depending on what material you decide upon, that will affect the amount of maintenance required to keep your rug clean and extend the longevity of your purchase.
When it comes to aesthetics, the possibilities are seemingly endless. Wool rugs are always an excellent choice due to their durability and long lasting beauty. If you are on a budget, but you want to make a talking piece for your home or office, then a cotton rug might be the choice for you. Let's say that you want a specific design or some sort of illustration then maybe a polypropylene or a hand crafted wool rug might be what you are looking for.
Maybe you want a more natural look or a traditional rug style. Some common natural materials especially for Southern California might be seagrass or jute. These rugs exude a natural feeling while also providing a decent amount of natural stain resistance; but the only downside is that they might be more maintenance if you are prone to staining or live in a humid/wet climate.
If you have reached a point in life where you are able to make an investment for the future of your home or space, then wool or silk is most likely going to be the material that you choose. Not only are these materials the most common but also what renown rug designers use in most cases. The expense usually associated with luxury rugs isn't necessarily the materials, it's the labor and the process of crafting the rugs. Hand woven rugs with intricate patterns and precious dyes are going to be a driving factor in the expense of the rug.


Why purchase handmade designer rugs? It's to tell a story, maybe it's to invest in a different form of art, or maybe it's the rug that is destined to transform your space to the next level. If you want to add value to your home or leave a physical asset for generations to come then Oriental, Indian, Asian luxury rugs just might be the thing that you are looking for.
Although there are many more materials that rugs are made of, these are amongst the most popular. Just to summarize what we have spoken about we will provide you with summary points of each material: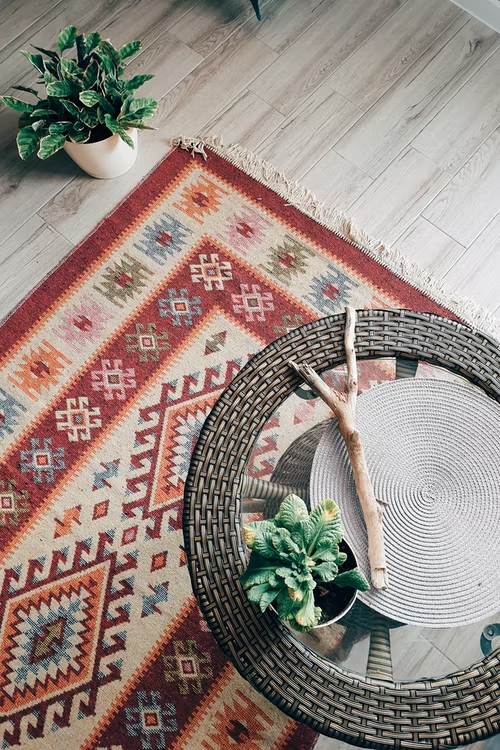 Either way, all of the rugs mentioned above need to be maintained to extend their longevity. These rugs need to be cleaned and pampered in a way to ensure they are protected from the environment around them. Kelly Cleaning's Ultimate Rug Spa is the place for your rug maintenance. The Ultimate Rug Spa has imported equipment from the rug cleaning capital of the world, Istanbul, Turkey. Our advanced equipment will have your rugs cleaned with the utmost care and the highest precision. Let the Ultimate Rug spa take care of your investment, we guarantee your rugs will be saying ahhh.